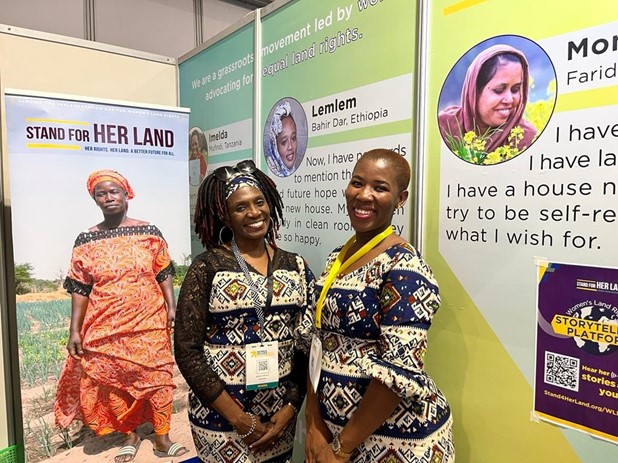 By Dr. Monica Mhoja, Khadija Mrisho, and Constance Teage
The Women Deliver 2023 (WD2023) Conference was held 17–20 July 2023 in Kigali, Rwanda—the first time in Africa—and themed "Spaces, Solidarity, and Solutions." We were honored to be part of WD2023, the largest gender equality and justice conference worldwide.
Some team members attended the pre-conference on climate crisis and gender on July 16, which brought together more than 100 participants. The event was co-organized by S4HL in collaboration with other partners. A session on Land, Energy, and Water discussed how climate change affects women differently and the likelihood of exacerbating gender inequality and injustices. The S4HL Advocacy Coordinator presented on the intersection of secure land rights for women and climate resilience as well as the need to advance grassroots women's agency, voices, and leadership. Landesa's Outreach Director – Africa recited a poem on women's land rights and climate change: "We must continue to strive in securing land rights for women. Women are survivors and not victims. It is time for women to be recognized not only in platforms but in providing them with infrastructures and finance to improve productivity."
Session takeaways included:
climate change policies must center women's unique needs, especially building women's capacity to overcome climate change
youth involvement and technology uptake holds promise for climate change initiatives
local-based solutions, such as women's participation in climate action decisions, are important
coordination of climate change programs is critical as currently they are often implemented in isolation.
resource investment is needed to ensure secure women's land rights and grassroots agency, voices, and leadership in climate action.
A S4HL event titled "Roots of Justice: Climate Action, Economic Opportunity, and Women's Land" was held on July 19. The event brought together stakeholders, funders, grassroots women, civil society organizations, and government representatives. Landesa/S4HL team member Khadija Mrisho spoke on past and present campaign efforts and how S4HL builds on those initiatives to advance women's land rights. Keynote speaker Dr. Jemimah Njuki, Chief of Economic Empowerment for UN Women, emphasized women's land rights beyond economic value as roots, food security, power, dignity, and many other considerations such as a tool for climate resilience. It is important to invest and join S4HL to draw on collective advocacy to ensure implementation of progressive laws, address discriminatory norms and practices, and build on grassroots movements to ensure gender equality and climate justice.
Part of the team participated in a UN Generation Equality Forum Impact Fest session, a high-level event where a call for collective action was issued to push forward gender equality. Tanzania's delegation to WD2023, Hon. Dr. Dorothy Gwajima, spoke on the government's efforts towards generational equality and how the government is collaborating with stakeholders. This was an opportunity to engage with stakeholders, funders, and government on how S4HL offers opportunity to attain economic justice, as it advances secure women's land rights, which are key to addressing the world's challenges like gender inequality and climate crisis.
Landesa and S4HL also had booth exhibitions to increase visibility of their work in terms of reach, locations, expertise, and beneficiaries. This also helped showcase S4HL's goals and future plans to expand to other countries.
The Landesa booth had facts and information about Landesa's overall work and impact as well as information about Amplio Talking Books. Landesa's Liberia Program Director Constance Teage spent most of her time at the conference in the Landesa booth. There were many conference attendees that visited the Landesa booth and were interested in Landesa's work, and particularly the Talking Books. People from entrepreneurship, health, agriculture, financing, and women's rights organizations were interested in the Talking Books as a tool to reach marginalized women. Constance explained how Landesa uses the tool in Liberia to directly reach women who have been marginalized when it came to land ownership, and to educate these women about their rights enshrined in the Land Rights Act. Many organizations expressed excitement about the potential impact of the Talking Books they were glad to hear how Landesa uses them in Liberia to reach women and expressed interest in using the tool themselves.
WD2023 was an opportunity to share experiences, learn, create relationships, reconnect with partners, and strengthen partnerships with like-minded organizations on gender equality, climate action, and women's land rights. Landesa and S4HL staff left the conference energized, inspired, and with new connections to further the vision of Landesa and the S4HL campaign.