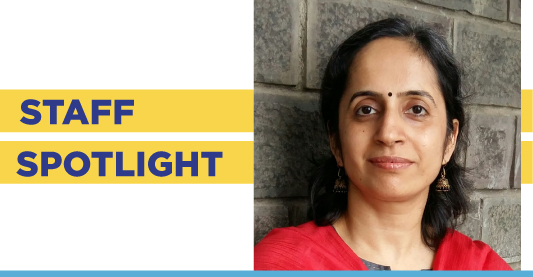 Shipra Deo is Landesa's Director – Women and Land based in Uttar Pradesh, India. Shipra began working for Landesa in 2015.
What brought you to Landesa?
I have been working passionately for equality of women all these years. A realization that clear and stronger rights over land have the power to bring about foundational changes for women to be more resilient, to have more and better choices, and to speak up for themselves brings me to Landesa.
What inspires your work?
Even when we know that a piece of land is foundational to a life of dignity and identity for women, their fuller rights are obstructed by a horde of legal as well as social challenges. The complex weave of deep-seated challenges, coupled with the fact that Landesa strives to bring change at the root of the problem rather than the symptoms themselves, inspires me to continue the work.
What work at Landesa makes you particularly proud?
The more I listen to women – as they talk about their past experiences, their present needs, and their hopes for the future, the more confident I become that a piece of land has significant power to break the cycle of oppression and lift women up. Empowering women towards a path of dignity, autonomy, and self-worth makes me feel good about my work.
Describe your vision for a better world.
A world where women and girls can just be themselves without any fear will be a better world for me.