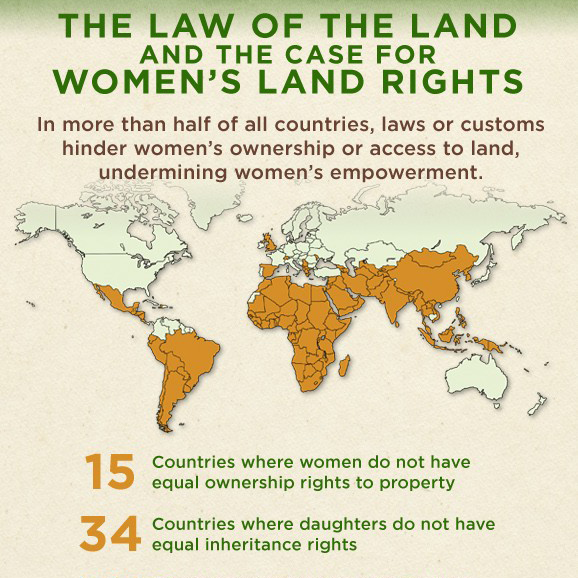 Citations:
To create this infographic, Landesa drew data from a wide variety of sources.
The list below provides our sources in the order in which they appear in the infographic.
Barriers to women's equal ownership or access to land data is from OECD's Social Institutions and Gender Index
Women and girls' ownership and inheritance rights data is from the World Bank's Women Business and the Law 2016
Customs inhibit women's access to land data is from OECD's Gender, Institutions and Development Database 2014
The number of women who farm is from the International Labor Organization's Key Indicators of the Labor Market 2015
The percent of employed women who rely on agriculture is from the Food and Agriculture Organization
The referenced study in Tanzania on women's earnings is: Peterman, A. (2011). Women's Property Rights and Gendered Policies: Implications for Women's Long-term Welfare in Rural Tanzania. The Journal of Development Studies, 47(1), 1-30.
The referenced study in Nepal about children's weight is: Allendorf, K. (2007). Do Women's Land Rights Promote Empowerment and Child Health in Nepal?. World Development, 35(11), 1975-1988. Chicago.
The referenced study in Rwanda about soil conservation is from: Ali, D. A., Deininger, K., & Goldstein, M. (2014). Environmental and gender impacts of land tenure regularization in Africa: pilot evidence from Rwanda. Journal of Development Economics, 110, 262-275.