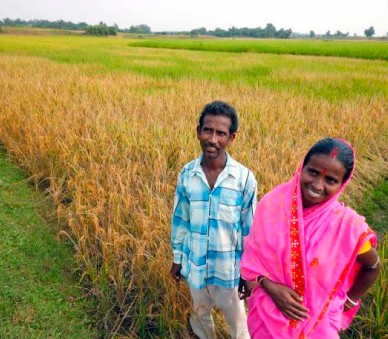 This blog originally appeared in Scroll.in.
By Sanjoy Patnaik
Nearly one-third of India is reeling under drought, evident from reports and images of distressed farmers and parched land captured in the media. The increasing unpredictability of rainfall and prolonged hot patches has severely impacted rural farmland and, consequently, the people dependent on agriculture. Drought and resultant crop loss, in some cases, has led to farmers, especially the small and marginal ones, migrating to urban areas for a living, while some have been driven to committing suicide.
Among the people most impacted by drought and a dire rural economy are the poorest of the poor in rural areas – the landless, and the small and marginal farmers. Most of India's poor rural, women and men, make their living by working as agricultural wage labourers or by leasing in other people's farmlands. Getting access to land by renting, while not as ideal as owning land, provides some relief to the rural landless and marginal and small farmers. Various studies show that close to 35% of India's agricultural land is cultivated by tenant farmers who are either landless or are small and marginal farmers.
Despite at least 25 million rural households practicing agricultural land rentals, the practice of renting such land in India is legally restricted. The associated challenges of such restriction are: a) tenant farmers not technically defined as farmers are, as a result, unable to avail of benefits provided by government to farmers including credit and other farm inputs and subsidies, b) tenant farmers' access to agricultural markets is limited as they are not land owners.
Post-independence land reforms
One of the most crucial components of India's post-Independence land reforms initiatives was to impose restrictions on renting agricultural land, as this practice was seen as a remnant of the feudal system, which encouraged exploitation of small farmers and agricultural labourers by big landlords. While the imposition of such restrictions was considered progressive, it didn't provide a feasible alternative around how the landless or the small and marginal farmers would either own or have access to agricultural land. Unfortunately, "land to the tiller" was merely limited to a catchy and ballot spinning slogan. With limited or negligible success of ceiling laws and Bhoodan (gifting of land) in terms of providing land to the poor, under cover land leasing continued, in the absence of any other option for the poor to access land for cultivation.
It has been six decades since these rental restrictions were imposed, but these laws have not been revisited to reflect the realities of a very different India today. The reality is that renting of agricultural land is rampant and is practiced in almost all parts of rural India. Agricultural land rentals are generally helpful for landless families, as well as small and marginal farmers, as it is an affordable means to broaden their access to land, which is their primary source of livelihood.
However, the rental restrictions and prohibitions adopted decades ago to benefit the rural poor and marginalised are now working against them by pushing rentals into informality, which reduces land available for rent, ensures shorter rental periods, and makes it difficult for renters to access loans, crop insurance, drought relief, and other government benefits.
Informal rentals
Most agricultural land rental agreements are informal agreements because landowners are often reluctant to let out their land as they fear their tenants will overstay, or even permanently occupy the land. This fear comes from the fact that during the land reform processes in the 1960s, '70s, and '80s, approximately five million tenants were given owner-like rights – a "land to the tiller" approach. Even though the number of renters benefiting from this approach has reduced to a trickle over the past decades, landowners' fears persist. Those fears, which are typically justified by the continued existence of highly restrictive agricultural land rental laws, often result in landowners keeping their land fallow or underutilising it rather than making it available for others who could use it for agricultural purposes.
Even when landowners do rent out their land, they are likely to do so for only short periods to ensure that tenants do not stay on. These short-term, informal rentals mean that the tenant has little or no incentive to make long-term, productivity-enhancing improvements to the land. This perverse incentive framework, combined with the fact that renters have difficulty accessing loans or other services, results in lower agricultural productivity and increased land degradation. And when any weather vagary like floods or drought hits rural areas, it is the tenant farmer who is affected the most. Since they are not legally recognised as farmers neither in revenue laws nor in the relief code, it is the landowner who becomes eligible for compensation.
A new beginning?
Research done by my organisation, Landesa, and others indicate that legalising the rental of agricultural land will provide land and livelihood access to small farmers in rural areas and greatly benefit them.
There is overwhelming evidence that tenancy laws of various states – which had some positive impacts in the past – are now negatively impacting the people they are supposed to benefit. Moreover, they are pulling agricultural productivity down, and increasing land degradation.
However, help may be on the way. Earlier this month, an expert committee from the NITI Aayog released a Draft Model Act that could make it easier and more beneficial for agricultural landowners and tenants to enter into legal, voluntary, mutually beneficial agreements. The Draft Model Act to formalise leasing of land – if and when adopted – will be a detailed implementation of a policy to ease restrictions on farmland rentals.
The Draft Model Act makes it possible for all the estimated 25 million farmers renting agricultural land, including sharecroppers, to qualify for bank loans, crop insurance, and other government benefits. It should also give landowners the confidence to legally let out land by making it easy for them to get their land back once the agreed rental period ends. This will be beneficial for landowners, renters, the land itself, and agricultural productivity.
Given that land is a state subject, now that a model central law has been introduced, it will be interesting to see how many states come forward to adapt and adopt this law. After all, it is ultimately state governments who have to make the law work for poor farmers in their areas. A number of states have shown an interest in this subject and are exploring the opportunity to take it to their states.
The implementation of this land leasing law will ensure when extreme weather conditions like this year's drought hit rural India, tenant farmers will have some security and will be able to plan, and cope better, with secure access to land.
Sanjoy Patnaik is Landesa's India Country Director.