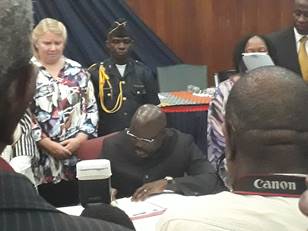 By Tyler Roush
In a watershed moment for land rights in Liberia and across Africa, President George Weah on Sept. 19 signed into law a land reform bill that extends land rights to millions of rural Liberians.
The Land Rights Act ensures, for the first time, that the land rights of rural Liberians are recognized, protected, and guaranteed by law – an essential ingredient for these communities to achieve secure land rights. Under the previous land tenure system, as much as 80 percent of Liberians lived without legally recognized rights to land.
The Act includes stronger protections for women's land rights, including provisions for women's participation on local land management committees.  The law also provides spouses with equal rights to be members of land owning communities, an important safeguard for women.
Members of Liberian civil society have hailed the legislation as one of the "most progressive" land reform laws on the African Continent.
The Act, which sat in limbo for more than four years before passing the Legislature earlier this month, finally codifies into law the principles set forth by the 2013 Land Rights Policy, one of the most progressive, pro-community land policies in Africa.
Landesa, with support from USAID and other funding partners, and in collaboration with civil society organizations, provided inputs to the government for the Land Rights Policy and subsequent Land Rights Act, including on key gender questions. Alongside local partners, including the CSO Working Group on Land Rights Reform in Liberia, we will continue to provide technical support and advice as Liberia's land reform process shifts from policy to implementation.
A stronger voice for rural Liberians
The Act is a major step forward for the land rights of all Liberians, and particularly for those who reside in rural areas and on community land. For more than 170 years, Liberia has treated all lands that are not privately held as belonging to the government. This includes community lands, where land tenure is "shared" among members of a community, but ownership hasn't been legally recognized by the government.
This has led to the widespread practice of granting concessions on community lands, often without consulting the people who have occupied the land. As a result, many communities were displaced from land they had occupied for hundreds of years – a recipe for conflict that contributed to two civil wars from 1989-2003 that killed hundreds of thousands of Liberians.
By recognizing the rights of rural communities over their ancestral land, the new law gives community members greater bargaining power and a stronger voice in negotiations over land investments, which is fundamental to addressing land disputes and ensuring a peaceful and prosperous future for all Liberians.