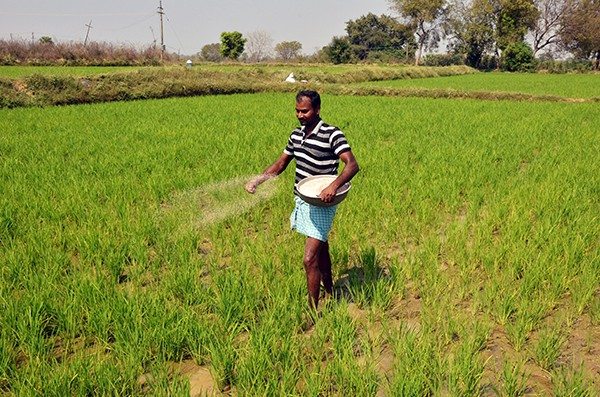 By Naveen Kumar
A major cause of economic vulnerability of rural families in India is insecure rights to land, arising partly from the lack of access to legal support by the poor.
According to the 2011 Socio Economic and Caste Census in India, 101 million (56.41%) rural households do not have any land of their own. Additionally, a large portion of the households who do have land lack titles or do not have rights recorded in the Record of Rights.
Land rights problems do not only affect the poor, but also the economy as a whole. According to a study by McKinsey, in 2001 India's GDP growth rate would have been 1.3 percentage points higher if land titles had been established, making land rights more secure.
Despite pro-poor policies and efforts made by the Government of India and state governments to solve land-related problems, a significant percentage of the poor are still either landless or lack secure rights to land. This problem is more severe among the marginalised groups, Dalits, tribals and women who also have to face class, caste and gender prejudices.
Even when the poor have land, legal problems arising from their lack of secure land rights and an inefficient and overburdened dispute resolution system can put them under economic and financial burdens. It also frequently results in the poor losing their land because for the majority of the poor and indigenous population in India, the access to legal aid, assistance and justice remains a distant dream.
To gain a better understanding of the challenges faced by the marginalized groups, scheduled castes, scheduled tribes and women, a study by Landesa examined information from 100 land dispute cases across 13 villages in Warangal district under the newly created state of Telangana.
The study explores issue of legal as well as cultural and social barriers that prevent people from having secure land rights and provides several key findings:
· First, in spite of numerous initiatives instituted by the governments of India and Andhra Pradesh/Telangana to help the poor in accessing their land rights, the poor still face such issues as: not having title for the government land being cultivated by a landless poor person; problems related with land received through inheritance; registered and unregistered sale deed; problems related to partition; and not having their land cultivators' passbook and title deed.
· Second, the study documents gender disparity in the pursuance of land-related problems and in interaction with the revenue officials. Women were found to be less likely than men to resolve their land issues by themselves, as they preferred other family members to do it for them. More men than women knew about the revenue department and its officials. This reflects the lack of awareness of and access to the revenue and adjudicating system, as well as limitations on decision-making power within the household.
· Third, the awareness of rights regarding obtaining copies of land records from the revenue offices and obtaining free legal aid or service was low.
· Fourth, often solving the problem required giving bribes to government officials.
· Finally, respondents identified a lack of legal awareness and illiteracy as major bottlenecks in the justice delivery system. The study findings also reveal that the Village Revenue Officers (VROs) felt overburdened by the number of cases they were dealing with.
Based on these findings, the study recommends gender sensitive land legal literacy training to the poor and tribals on land-related issues and capacity building of the revenue officials, especially the VROs, for speedy resolution of land problems. More efforts should be dedicated to addressing corruption in the revenue and adjudicating system. At the state level, correction of land records must be considered as a priority in dealing with land issues.
The study also advocates for the announcement of decisions of the revenue department in the Gram Sabhas (village level general body assembly of all adults). Gender segregated data on issues related to land must also be collected to facilitate further research. Revenue courts should be made more accessible to the poor to improve justice delivery in the state.
Rebuilding Andhra Pradesh and Telangana requires that the government (1) gives land/patta to the landless, (2) conducts gender sensitive legal literacy, and (3) corrects the land records so that the poor, tribal, women and other marginalized groups can avail various benefits and have secure land rights.
Naveen Kumar is a Director of Research, Monitoring and Evaluation at Landesa.