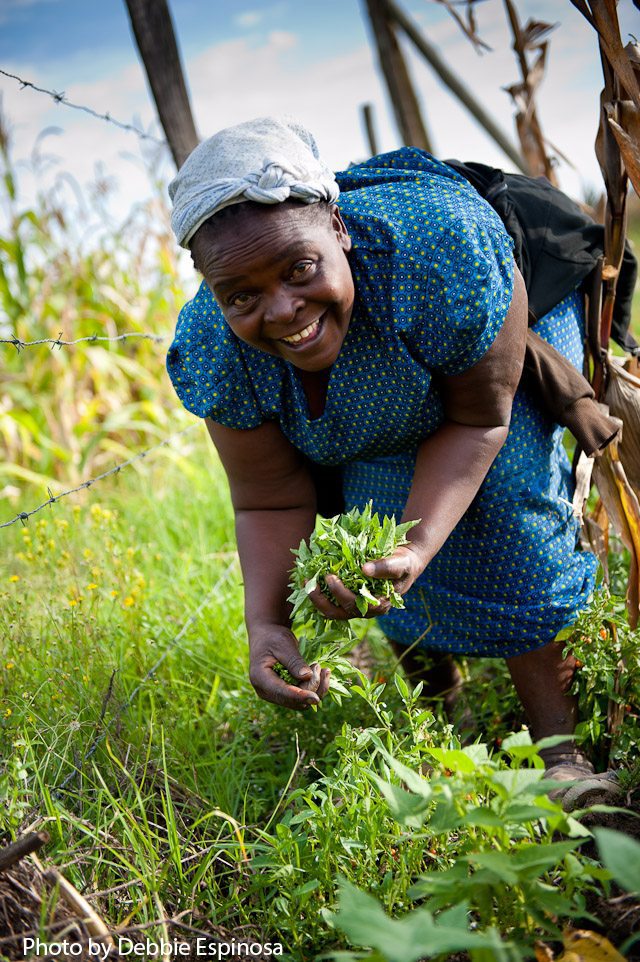 This blog originally appeared on Place.
By Dr. Musimbi Kanyoro
Twenty years ago, I learned a valuable lesson about the power of land and inheritance rights to affirm the status and contributions of women. My father-in-law, then 80 years old, was dividing his land to his children. In doing so, he made a decision that was unusual for a man in Kenya– he gave a piece of land to me, his daughter-in-law. He had come to believe that it was only just to affirm the role that women play in contributing to the household and caring for aging parents.
But I was fortunate – my father-in-law's decision to distribute land to a female relative was at odds with prevailing legal and cultural norms. As I have learned in my time at Global Fund for Women, millions of women are not so lucky. Instead, women living in more than half the world still face legal or customary barriers to their land and inheritance rights, condemning these women to second-class status. This inequality persists in spite of the evidence that secure land rights can improve the lives of women, their families, and their communities.
For millions of rural women and girls, few tools can level the playing field like secure legal rights to land. The right to own, access, inherit, and use land can empower a woman within her household, giving her a greater say in decision-making. This has a profound ripple effect on household nutrition and food security, family health, education, access to credit, and a host of other positive outcomes.
But in too many places, women's only claim to the land they rely on for food, income, and shelter is through their relationship to a male relative – a husband, father, or brother.  Laws, and more often gender bias and discriminatory norms, entrench women's insecure tenure. Without targeted interventions on behalf of women's rights to the land they depend on to feed themselves and their families—through policies, laws, development programming, and civil society coordination—women's rights to and uses of land are ignored and even extinguished.
In recognition of these realities, one international organization, Landesa, has worked for decades to strengthen land and inheritance rights for women, men and communities around the world. Through its Center for Women's Land Rights and its programs in Asia and Africa, Landesa has found innovative ways to work with governments and civil society groups to reform laws and address barriers to women's land rights.
In India, Landesa has worked alongside the government to help provide legal land rights to hundreds of thousands poor rural women and men, including single landless women who are among the most vulnerable people in Indian society. In Rwanda, Landesa supported the government's efforts to reform land law and policy and then worked at the grassroots and national levels to secure rural women's rights to land, providing legal information, improving government capacity, and ensuring that women could participate in efforts to recognize and defend their rights.
That's why we at the Global Fund for Women value the work of Landesa, which takes up an issue that impacts so many women around the world. For decades, working in more than 50 countries, Landesa has been at the vanguard of the land rights movement. Its team of land tenure experts, working closely with governments, civil society, multilateral organizations, and the private sector, have advised on policy reforms and program interventions that have secured land rights for 120 million families and counting. Two years ago, Landesa committed to helping secure land rights for 50 million more people by 2020.
Those efforts are to receive a powerful new endorsement as the LUI Che Woo Prize – Prize for World Civilisation today named Landesa as the Welfare Betterment Prize awardee. Dr. Lui Che Woo established the LUI Che Woo Prize in 2015 to recognize individuals and organizations making significant contributions to promote the advancement of human civilization.
This award is well deserved and comes at a particularly opportune moment. Rising demand for commodities, population growth and climate change are creating new pressure on land, spurring conflict and refugee flows.  Secure land rights are critical to empowering communities to protect their land and forests, and to incentivizing farmers to invest in higher-yielding technologies.
The Sustainable Development Goals realize the critical role that secure land rights, particularly for women, play in achieving a better, more equal, just world. The 2030 Agenda goals — from ending poverty and hunger, to reaching gender equality — explicitly call out secure land tenure in 3 of 17 goals, with links to several others, such as safe cities, climate change, and health.  The African Union's Land Policy Initiative recently launched a campaign calling for 30% target of documented land ownership for women by 2025.
Global Fund for Women continues to support the international women's movement to organize and claim rights for themselves and their communities. Our mantra is "Every woman and girl is safe, strong, powerful, and heard." Few tools can make this vision a reality quite like secure rights to land.
With new allies and growing acknowledgement from the international community, we are closer than ever to ensuring secure, equal land rights for women that will empower them, their families, and their communities.
Dr. Musimbi Kanyoro, President & CEO, Global Fund for Women, is an activist for women and girls' health and human rights, and passionate about using philanthropy and technology to drive social change.