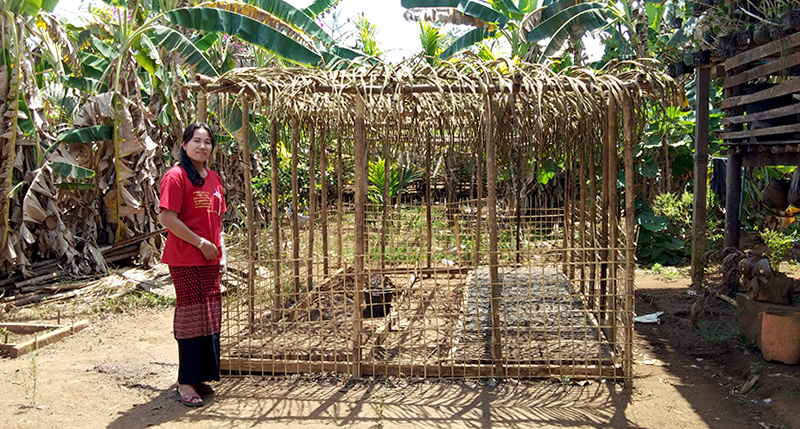 This blog was originally published by Deliver for Good.
By Beth Roberts
What if we could alleviate rural poverty, strengthen women's rights, and help turn the tide against climate change, all at once?
In Myanmar, a program to secure land rights for the country's forest-dwelling communities is helping villages make progress toward all three.
---
Ma Phyu, who lives in one such village, recently received a land certificate guaranteeing her right to land she had been farming for two decades. After years living with the uncertainty of insecure land rights, she now feels empowered to take control of her land to boost her family's income and preserve vital forest.
"Before, we always had to worry about whether our farms would be removed or if we would be sued for trespassing," she said. "Now, I am confident… and dare to announce to anyone that this is my farm."
She's also discovered an elevated social standing and a stronger voice in her community, where she now serves as secretary of the village's Forest Management Committee. She's using her leadership role to promote sustainable management of the community's forest and encourage other women to step into leadership roles.
Landesa, a global land rights organization, is partnering with Myanmar's Forest Department to help secure forest rights for thousands of people like Ma Phyu — part of a five-year effort to certify 1.5 million acres of community forest, including large areas of coastal mangroves.
These "supertrees," most commonly found in the band of tropical land that runs along the equator through parts of Asia, Africa, and Latin America, are among the most effective carbon sinks on earth, capable of storing five to ten times the carbon of rainforests. Mangroves provide a critical buffer against erosion for coastal farmland, and are also an important location for aquaculture activities. With land certificates, Myanmar's forest communities can better manage these critical areas, preserving forests for sustainable use.
Importantly, those certificates include the names of both husband and wife, which equips women with improved status in the household and a stronger voice in decision-making on the family's land. With their rights recognized, women are in a better position to manage household land and resources and to join in community dialogues about how to manage – and conserve – the community's land and forests.
The gendered aspects of life in rural communities mean that women and girls are primarily responsible for preparing and cooking meals, collecting water, and planting and growing subsistence crops, giving them unique and vital knowledge about the ways in which land can be sustainably managed. By strengthening their land rights and elevating their voices in decision-making around land, rural women like Ma Phyu – who make up a quarter of the world's population – can become an indispensable ally in the global fight against climate change.
Rural women are part of one of the largest constituencies in the world – the 2.5 billion people who live on indigenous and community lands that the U.N.'s Intergovernmental Panel on Climate Change (IPCC) has described as essential to the world's strategy for addressing climate change.
Indigenous and rural communities hold more than 50% of the world's land, but their rights to that land are rarely legally recognized, leaving them vulnerable to the exploitation, degradation and destruction of their most valuable resource. This has serious consequences not only for the future livelihoods of these communities, but also for the health of our planet.
Indigenous groups manage at least 17 percent of the carbon stored in the world's forests – equal to 33 times the global carbon emissions in 2017. Keeping this carbon contained – in the trees and soil – is essential to reducing carbon emissions and limiting global temperature rise to 2 degrees Celsius target by 2030.
With their first-hand experience and specific knowledge about the lands they care for and cultivate, rural women are essential stakeholders in this effort. By securing their rights to land, women like Ma Phyu can become agents of climate action, building climate resilience and boosting mitigation efforts in their communities.