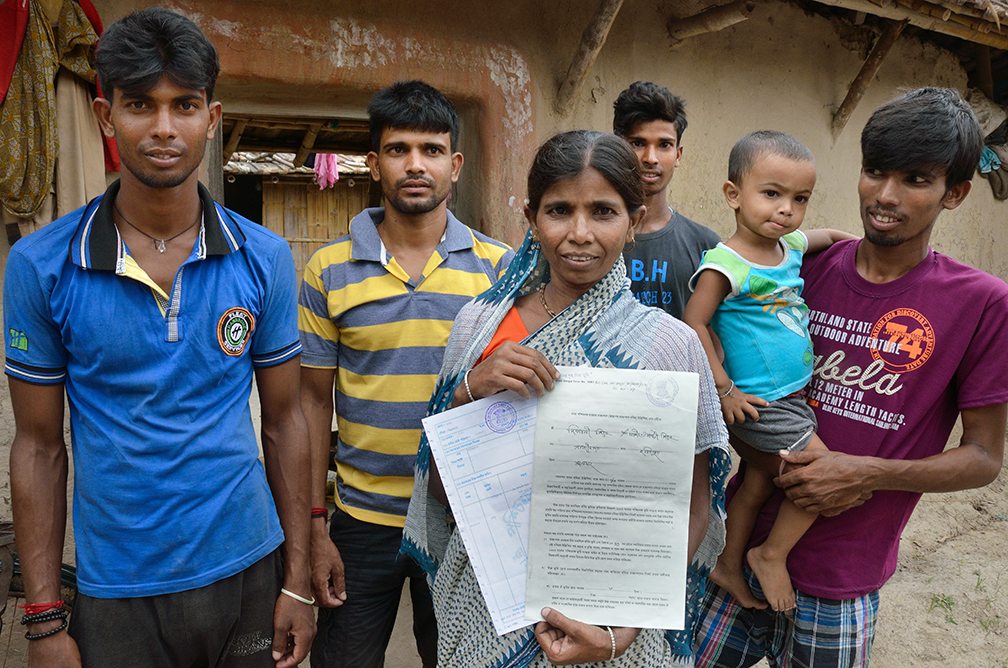 By Udita Chatterjee
I have dedicated my personal and professional life to strengthening women's rights to own and inherit land in my native India.
So there was both irony and sadness in my mother's voice when she called me with some news.
My mother had learned that her two brothers had convened a meeting to divide up their elderly mother's estate. My mother had neither been invited to the meeting, nor informed of their plans. Their beautiful childhood home, family jewelry, and the bank account would all be divided neatly in half, with each brother receiving what he thought was his fair share.
My mother is much loved by her mother and her brothers. Their treatment of her doesn't reflect an ongoing feud or bad blood. Rather it is a product of a widespread practice that unfortunately is not unique to India.
Indeed, in far too many parts of the world, social norms (and sometimes laws) reduce women's inheritance to genes, family stories, and little in the way of productive assets such as land or property. As we celebrate International Women's Day on March 8, it's important that we remember the millions of women for whom equity in  land and inheritance rights remain elusive.
I happened to be finishing a paper and presentation on daughters' inheritance rights and practices for a World Bank conference when my mother called, her voice cracking with emotion. In the paper, I explore why it is that despite India's Hindu Succession Act Amendment women are still not inheriting their share of family land.
I'll summarize here: in 1956 India passed the Hindu Succession Act which mandated equal inheritance rights for sons and daughters. It didn't take. And so, the government passed an amendment to the act in 2005 explicitly giving daughters equal rights to her parent's land and property.
Even with this, the needle barely moved, as confirmed by a 2013 survey by my organization, Landesa, and UN Women. We surveyed more than 1,400 women and 360 men in three Indian states, Andhra Pradesh, Bihar and Madhya Pradesh, and found that just one in eight women whose parents owned agricultural land inherited any of it. One in four women didn't even know that they have any right to inherit family land. And a majority of women surveyed didn't know of a single case in which another woman had inherited land from her parents.
Just as interesting is the fact that the study found that women are generally unwilling to demand their share of family property for fear of creating conflict that would sully their relationships with their brothers and other family members. This was also the case with my mother, who was fearful that pressing for her share would sour relations with her brothers.
My World Bank paper explored why, despite the clear directives from government, mothers and fathers still leave their land to their sons: boys are valued more, boys are meant to look after their parents in their old age, girls are seen as "marrying out of the family," girls receive a dowry when they marry (never mind that the dowry is actually paid by the bride's parents to the groom's parents; is generally not seen as the property of the bride; and that it is usually worth only a fraction of the value of the family's land holdings).
Furthermore, as my research and my mother's experience brought into stark light, brothers resist the idea of sharing inheritance with their sisters. This was the case with one of my uncles who thought my mother's dowry (in the form of jewelry) decades ago was enough.
My mother is fortunate. She has been successful in her own right and does not need her rightful inheritance. But in my fieldwork in West Bengal, India, I meet countless women who are not so fortunate.
I am writing this not to shame my uncles, whom I love dearly. Rather, I'm writing this because who inherits land and property matters deeply.
Because the practice, where generation after generation of family property and resources are concentrated into the hands of men, leaves women with fewer tools for climbing out of poverty, which can have a direct impact on the next generation.
Research shows that women dedicate more of their income than men to their children's education and nutrition. Consider the case of women with secure rights to land: their children are ten percent less likely to be sick, 33 percent less likely to be malnourished, more likely to have greater resources for education, and the list goes on (see this infographic for details and citations).
It is imperative to ensure women receive their rightful inheritance and obtain assets they can use to climb out of poverty. A number of innovative and promising programs in India and elsewhere indicate a path forward.
Rwanda, for example, lists all children's names (both boys and girls) on all land titles to formalize girls' claims.
Kenya adopted a new constitution in 2010 that granted women equal rights to land – and grassroots programs are working to ensure women can benefit from these new rights. Further, a number of women have taken to the courts to press for their inheritance in a few high profile cases last year.
India, for its part, has promising education and legal aid programs and training for officials who handle estates. These should be supported, expanded, and replicated to ensure that women inherit property, not poverty.
Udita Chatterjee is a Program Manager – Research with Landesa's India Program.