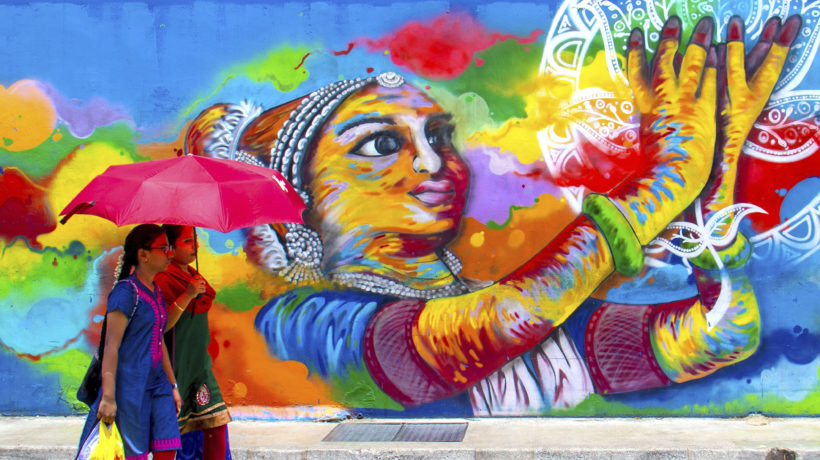 This blog was originally published on Property Rights Research Consortium. 
By Shipra Deo
The surreal times of COVID-19 have emerged in the context of a lot of pre-existing challenges. One such challenge is the enormous violence that women encounter all the time – because of their gender.
Several years ago while conducting a workshop with a group of women leaders from Uttar Pradesh, I met Farzana. She was a participant and had been mostly silent throughout. On the third day of the workshop she finally mustered the courage to share her story.
Farzana had come home to find her 9-year-old daughter crying helplessly, covered with bruises, and lying in a pool of blood. She had been raped by a family member – the son of her husband's elder brother.
Farzana called her husband, who worked in Dubai, to share her pain and seek advice. To her shock, her husband blamed her for her daughter's rape. He told her to remain quiet about the incident and refused even to allow Farzana to take their daughter to the hospital for treatment.
Farzana couldn't bear the thought of living in the same house again and went to stay with her parents. But she wasn't welcome – she and her daughter were a burden, financial and reputational.
A few days later, her in-laws offered her INR 50,000 (about $660 USD) to settle the matter. To Farzana, it felt as though her dignity and self-respect were being bought! But, not wanting to stay in the house where the attack happened and not being welcome in her parents' home, what else could she have done other than accept the offer?
Since then, Farzana hasn't been able to look at herself without feeling disgraced or humiliated. She and her daughter were stripped of their humanity, womanhood and justice – to serve family honor. As she closed her story, she said with tears in her eyes, "This settlement is one thing in my life which I regret the most.  My tears today make me realize I am still human!"
Unfortunately, Farzana's story is not unique.  For far too many women, violence is a horrifying reality throughout their lives.
An epidemic of violence
Globally, 1 in 3 women experience either physical or sexual violence at some point in their lives, and in most of the cases women know the perpetrator.
Thousands of cases similar to Farzana's daughter go unreported.
Amid the COVID-19 crisis we are seeing a "horrifying global surge in domestic violence."
Ironically, this surge is tied to good intentions to keep women and girls safe from the spread of the virus.
Lockdowns have been widely used to stop the spread of the virus, but for many women and girls, lockdown means they are trapped at home with abusive spouses, partners and family members with limited access to support services, if any. Just as we take urgent measures to stop the spread of COVID-19, it's important to recognize that gender-based violence (GBV) is another epidemic – a global crisis that has been hidden for far too long. COVID-19 is laying the scale and scope of the problem bare.
To address the crisis of GBV, we first need to ask ourselves why so many women are subject to such treatment.
The answer is rooted in structural gender inequalities based on deeply entrenched discriminatory social norms and customary practices that prohibit women from having the same opportunities and resources as men.
This discrimination is clear when it comes to the ownership and control of land. Exact data is not available anywhere, but roughly only 7-13% of women in India own land – about 1 in 10.
Women face legal challenges, family pressures and even violence when they attempt to exercise land rights.  Violence is frequently used to keep them away from owning resources, to sustain inequality, and to keep them subjugated.
One study from Kerala found that 7% of women who owned a house and land experienced physical violence. When women owned neither, 49% reported experiencing physical violence.
Unfortunately, generation after generation, women have lived without the security and the safety that comes from owning land.
The gender-specific biases that hamper women's rights to land also extend to laws regulating land allocation, leasing, acquisition, and inheritance.  And those in charge of designing and implementing our land laws and policies are often subject to the same gender-specific biases.
Dismantling these biases and removing obstacles for women to own land is the core focus of my work at Landesa, and it's essential to addressing a root cause of GBV.
Fortunately, the power to make these changes is within our grasp. There are several steps we can take to improve conditions for women and girls.
First, we need to review and amend laws to remove overt and covert discrimination.
Next, we need to make sure government officials and elected leaders who play a role in designing policies and their implementation understand women's rights and their importance.
We need to help women know their rights and support them in asserting these rights.
We also need to improve data collection to track levels of violence and disputes over land that lead to violence against women.
But more than anything else we need to take focused steps – including public campaigns – to shift mindsets that forbid women from owning land.
The power of women's land
Is a different future possible?  The answer is yes.
I happened to talk to Farzana again recently. She was excited to tell me that through years of saving and earning she had been able to purchase a piece of land.
She told me, "If I had this land back then, I would not have had to make that compromise. I could have moved out and lived there in a thatched hut with my daughter."
In fact, the more I listen to women – as they talk about their past experiences, their present needs and their hopes for the future – the more confident I become that a piece of land has the power to break this cycle of oppression and lift women up, empowering them to live a life of dignity, autonomy and self-worth.
The power that women derive from land ownership is not just about having their names on a piece of paper. The real power of a woman's land ownership is that it creates a strong foundation for her to be more resilient, to have better choices and to have increased ability to decide her future.