Liberia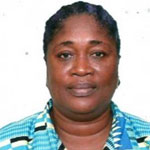 Gmasonah Togba-Aboah
Customary Land Rights Officer, Liberia Land Authority
Gmasonah Tobga Aboah graduated in 1996 with a BBA in Management from the University of Liberia. In 2009, she obtained a Master of Public Sector Management (MPSM) from the Ghana Institute of Public Administration (GIMPA) in Accra, Ghana.
Ms. Aboah holds 25 years of experience in the public and private sectors doing work in the fields of agricultural development and women's empowerment. She held the position of Director and Desk Officer for the Afro-Asian Rural Development Organization (AARDO). This position enabled Ms. Aboah to interact with people from different backgrounds throughout the country.
Between 2011 and the present, Ms. Aboah has served in various positions with the Liberia Land Authority, including Assistant Program Officer for Land Law, Program Officer for Customary Land Rights, Project Team Head, and she presently serves the as Customary Land Rights Officer. These positions have afforded her the opportunity to work closely with traditional people, mainly women, in rural communities.