India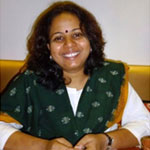 Ranjana Das
Program Coordinator, Oxfam India
Ranjana Das has dedicated her twelve-year career in India's development sector to numerous women's rights issues. Ms. Das has extensive knowledge on the designing, planning, and monitoring and evaluation of programs, and provides leadership on gender mainstreaming at the organizational and programmatic level.
Currently, Ms. Das is a program coordinator in Oxfam India's Odisha office. She has been instrumental in fostering Oxfam's collaboration with the Central Institute for Women in Agriculture, with which she organized a symposium on women and land rights.
Ms. Das holds dual master's degrees, in economics from the University of Calcutta, and in development studies from the International Institute of Social Studies in the Netherlands and is currently pursuing her PhD from the Tata Institute of Social Sciences. As part of her dissertation research, Ms. Das is investigating the extent to which female household members in Odisha own land titles and have access to and control over their land.