China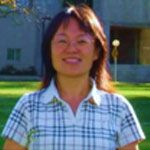 Xiaopeng Pang
Professor, Associate Dean of School of Agricultural Economics and Rural Development, Renmin University of China, Beijing
Xiaopeng Pang holds a PhD in economics from Renmin University of China and an MA in agricultural economics from Nanjing Agriculture University. Now a professor at Renmin University, Xiaopeng Pang teaches courses in development economics, Chinese economy, and rural development.
Xiaopeng Pang's research focuses on Chinese village elections, poverty reduction and rural development, and gender and public policy. She is currently conducting research on bringing a gender perspective to the process of public policy development using evidence from China's rural education policy.
Xiaopeng has presented papers at many international conferences such as the International Workshop on Feminist Economics in China and India, Women and Politics in Asia, and the Association for Asian Studies.
In 2013 All China Women's Federation invited Xiaopeng Pang to speak on women's economic and political participation in rural China at the Universal Periodic Review, held at the Geneva office of the United Nations.