India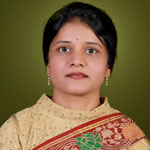 Sangeeta Shete
Gender Consultant, IDH Sustainable Trade Initiative
Sangeeta Shete has fifteen years of experience in rural development and women's empowerment, giving her extensive knowledge of gender mainstreaming, capacity building of women's community-based organizations, and livelihood and enterprise development.
Ms. Shete worked with Women Development Corporation in Maharashtra organizing women's self-help groups in community-managed resource centers and conducting awareness programs on such issues as financial literacy and gender sensitization.
Ms. Shete began her work in women's land rights with the Convergence of Agricultural Interventions in Maharashtra (CAIM). She framed the project's gender strategy, organizing an awareness campaign to educate men and women about a government resolution. Ms. Shete's campaign, which included street plays, follow-up meetings, and gender sensitization for male farmers and government officials, resulted in 1,180 women gaining co-ownership of their household lands.
Ms. Shete's educational background includes a PhD in Sociology from Swami Ramanand Tirth Marathwada University in Nanded and a master's degree in Social Work from Dr Babasaheb Ambedkar Marathwada University in Aurangabad.