Tanzania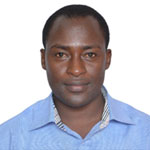 Godfrey Massay
Land Tenure Specialist, Landesa
Land rights lawyer Godfrey Massay earned his Bachelor of Laws with honors in 2009 from the University of Dar es Salaam. He joined Landesa in May 2017 as Advocacy Manager for Tanzania office a position he held until June 2018 when he was promoted to become Land Tenure Specialist. The scope of his work is diverse and includes to identify, support, and collaborate with a multi-sectoral group of key stakeholders at the local, sub-national and national level on: (a) the importance of women's and men's land rights in Tanzania, (b) the goals of the UN 2030 Agenda, and (c) the need to rigorously monitor progress towards the achievement of women's and men's land rights.
Before joining Landesa, Mr. Massay worked with Land Rights Research and Resources Institute (HAKIARDHI) for four years and with Tanzania Natural Resources Forum (TNRF) for two and half years. In both organizations he implemented and supervised work on land rights literacy, legal aid, research, multi-stakeholder platforms and policy advocacy.
Mr. Massay likes writing and publishing on land rights. His primary research interests are land grabbing, land reforms, constitutionalism, foreign investment, natural resources, and agrarian question and gender issues in Tanzania. He recently (September 2018) published a book chapter titled Land Based Investments in Tanzania: Legal Framework and Realities on the Ground.