Liberia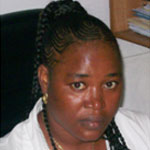 Izatta Nagbe
Gender and Land Specialist USAID, Tetra Tech Land Governance Support Activity Program
With over ten years' experience in gender work, Izatta Nagbe has overseen gender and youth mainstreaming and capacity development for government bodies and international NGOs, as well as civil-society organizations.
Currently a gender and land specialist with the USAID/TetraTech Land Governance Support Activity Program (LGSA), Ms. Nagbe supports LGSA project staff and national, community, and NGO partners to ensure the integration of gender in the implementation of the policies and structures of the proposed Liberia Land Rights Act and Land Authority.
Ms. Nagbe gained much of her gender expertise working with the United Nations High Commissioner for Refugees (UNHCR), where she oversaw gender-sensitive programming as Community Services Associate and served as a focal point on the Government/UN Joint Program on Sexual and Gender-Based Violence.
Ms. Nagbe holds a Bachelor of Arts in sociology from the University of Liberia and a certificate in social work from the Mother Pattern College of Health and Social Sciences.