Tanzania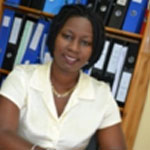 Scholastica Haule
Women and Land Rights Advisor, ActionAid Tanzania
Scholastica Haule has more than five years' experience working on land rights. Her areas of expertise are family law, women's rights, and property rights.Ms. Haule began her development career as a project officer for Envirocare. During her tenure she also worked on land conflict resolution for pastoral communities.
As Women and Land Rights Advisor for ActionAid Tanzania, Ms. Haule designs empowerment programs aimed at promoting women's rights and women's access and control of land at national and local levels. She coordinates land policy analysis for advocacy efforts and oversees partnership management projects. She also coordinates a project to address violence against women in Zanzibar.
Ms. Haule has presented papers on land rights at the East African Legislative Assembly's natural resources committee and the World Bank (Tanzania). She holds a Bachelor of Laws degree and is currently working on a master's degree in leadership and governance.