China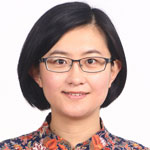 Wang Xiaoli
Lecturer, Center for Women's Studies, Party School of the Central Committee of the Communist Party of China
Wang Xiaoli has focused her research and project design on gender and rural development, with fieldwork in nearly thirty provinces and municipalities across China and other Asian countries. She has authored twenty publications.
Wang Xiaoli works with All-China Women's Federation (ACWF), the National Health and Family Planning Commission, and the United Nations Population Fund. With the CWS team of CCPS, she is conducting pilot interventions and research promoting the protection of women's land rights. At a micro level, her work with ACWF explores effective approaches for rural women's participation in community governance and how participation impacts rights.
Wang Xiaoli holds a PhD in development studies from China Agricultural University and in 2013 was awarded post-doctoral studies at the China Institute for Rural Studies at Tsinghua University. She also led gender curriculum development, a symposium on rural women and development, and a methodological training workshop on gender studies at the Center for Women's Studies of Shantou University.