Kenya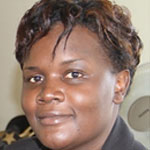 Jacqueline Osiako Ingutiah
Senior Legal Counsel, Federation of Women Lawyers Kenya
Jacqueline Ingutiah is an advocate of the high court of Kenya with over ten years' experience working on women's rights issues. Currently a senior legal counsel with the Federation of Women Lawyers Kenya (FIDA), she oversees and implements the women's land rights component of FIDA's Access to Justice Program.
In addition to legal aid services, Jacqueline conducts capacity building trainings for varied audiences. Ms. Ingutiah represents FIDA in the African Union CSO – Land Policy Initiative Platform under the Women's Land Rights Thematic Group, the Litigants and Women's Land Rights Groups at the African Commission on Human and People's Rights, the Court User Committee, and the Kisumu Gender Technical Working Group.
Ms. Ingutiah holds a BA degree in law and an MA in peace and reconciliation studies. In addition, she has received training in strategic litigation on women's land rights in Africa, mediation, trial advocacy, and a human rights-based approach to development.