China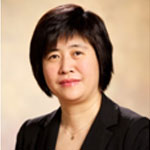 Xiaobei Wang
Women's Land Rights Consultant
A gender and land tenure specialist in Landesa's Beijing office since 2010, Xiaobei Wang helps design, analyze, implement, and evaluate policies and programs expected to improve rural land tenure security and access to land in China. Xiaobei Wang also has extensive experience with fieldwork, project management, and legislative advocacy on gender awareness and women's issues in China, for rural women's land tenure. At Landesa she recently coauthored a study on women's forestland rights in Hunan, Fujian, and Yunan provinces.
Prior to her current role, Xiaobei was secretary general of Women's Watch China, part of Peking University Women's Law Studies and Legal Aid Center. She worked to protect women's rights with the aim to build gender awareness, explore strategies to resolve problems, and promote the issue and improvement of new laws and regulations to foster gender mainstreaming and the protection of women's rights.
Xiaobei Wang earned her master's degree and PhD in sociology from Renmin University of China.