India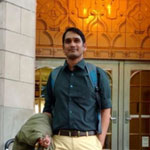 Satish Patnaik
Team Coordinator, Jashipur team, PRADAN, and Field Faculty for Ambedkar University, Delhi
Satish Patnaik has been dedicated to the economic, political, and social empowerment of rural tribal populations, especially women, since 2005 in the endemic poverty zones of Odisha. He implemented livelihood programs for PRADAN that enhance female farmers' technical knowledge of livestock rearing, agricultural planning, and the judicious use of natural resources. He also designed and implemented a savings-based microfinance program that connects female farmers to regional and national banks and sensitizes stakeholders—bank officers, government officials, and business leaders—to be accountable to rural women.
He has also implemented right based programs like MGNREGS (National Rural Employment Guarantee Scheme), special vehicle projects for tribal like OTELP (Odisha Tribal empowerment and Livelihood Project), MKSP(Mahila Kisan Sasaktikaran Pariyojan-Women farmers empowerment program) and NRLM (National Rural Livelihood Mission) initiative.
Mr. Patnaik holds a bachelor's degree in technology in agricultural engineering from Orissa University of Agricultural Engineering and Technology in Bhubaneswar.