India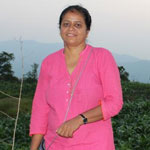 Kalpana Sathish
National Coordinator, ActionAid India
Kalpana Sathish has been a human rights activist and action researcher working in the development sector in India for more than ten years working with female representatives of local governments to enact platforms of social justice and economic development. She built her career at grassroots women's and human rights organizations advocating for the rights of marginalized populations, including dalits, adivasis, and coastal communities.
In her current position at ActionAid India, Ms. Sathish manages a women's right to land project supported by the European Commission in the southern states of Tamil Nadu and Andhra Pradesh. She is also coordinating and conducting empirical research for a study, "Establishing Linkages between Land Rights of Dalit Women and Empowerment," and is part of a team examining how land reform policies are being enforced.
Ms. Sathish earned her master's degree in sociology from Chithambaram Annamalai University, and she has a PG diploma in human resource development from Pondicherry University.