China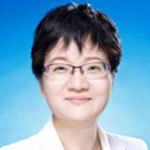 Liu Meng
Social Work Professor and Vice President of China Women's University
A professor of social work and the vice president of China Women's University (CWU), Liu Meng is also deputy general secretary of the Association of Social Work Education in China, general secretary of China's National Committee of Women's Education, and the director of CWU's Research Center of Women's Land Rights.
Liu Meng holds a PhD in social administration and social work from the University of Hong Kong. Her current research and areas of interest include family violence, women's welfare policy, the indigenization of social work in China, trafficking of women and children, and interventions for vulnerable women, including migrants and ethnic minorities and divorced, abandoned, or unemployed women.
Liu Meng participated in the World Meteorological Organization's conference on climate change and gender in 2014, the UN Commission on the Status of Women in March 2015, and the UN's Global Leaders Meeting on Gender Equality in September 2015.