China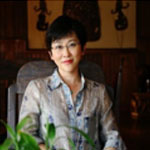 Xu Xue
Senior Research Fellow; Chief of Research Management Department, Research Center for Rural Economy, Ministry of Agriculture
Xu Xue is a senior researcher at the Ministry of Agriculture's Research Center for Rural Economy (RCRE), a rural policy consultancy institution that advises the Central Government on its rural and agricultural policies, rural development strategies, and institutional reforms.
Xu Xue's research and consultancy at RCRE focuses on poverty reduction and rural social development from a gender perspective, ensuring that RCRE's development strategy, consultancy project design, and policy-making processes incorporate gender and address equal development opportunities and capacity building for women.
She has worked as a social and gender development specialist on other Ford Foundation projects, as well as for the World Bank, Asian Development Bank, International Centre for Integrated Mountain Development, and the United Nations Development Programme (UNDP) researching, for instance, rural women's participation in household decision making—including around land use, agricultural production, household expenditures, and access to education and training—and in village decision-making processes.