India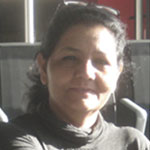 Kanta Singh
State Project Head, UNDP India
Kanta Singh has been working as a development professional in India for the past 25 years. Ms. Singh began her career as a gender trainer before she moved up to managing various programmes with focus on gender, democracy, and human rights. She was involved in setting up, implementing, and managing India's largest network of organisations working on women's rights called WomenPowerConnect.
Since 2010, Ms. Singh has been working with UNDP in India on programmes addressing the access to justice and economic rights of women. She has extensively worked towards securing land and property rights for women.
Ms. Singh is currently part of the Gender Task Team of the United Nations in India and is responsible for mainstreaming gender in development programmes. Her newest position is working as State Project Head of a 3-year project called "Creating Employment and Entrepreneurship Opportunities for women in India" (DISHA).