Uganda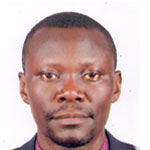 Tom Balemesa
Research Consultant
Tom Balemesa has focused his career on natural assets and development, with over ten years' experience in policy analysis, research, advocacy, and programming.
Mr. Balemesa recently co-authored an assessment report on land and mining-related conflicts in Uganda's Karamoja region for the European Union and United Nations and is currently researching the impact of oil development on livelihoods. The recipient of the Atlas Fellowship from the United States Peace Corps in Washington, DC, and the Africa Junior Research Fellowship from the Africa Centre for Constructive Resolution of Disputes in Durban, South Africa, he has also written for and presented to local and international audiences on peace and development issues.
Mr. Balemesa received his MA in peace and conflict studies from Makerere University in Kampala, a post-graduate diploma in monitoring and evaluation from the Uganda Management Institute, and certification on conflict analysis and mediation from the United States Institute of Peace.