China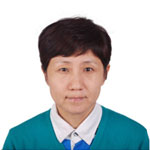 Yang Li
Research Center for Rural Economy, Ministry of Agriculture
A research associate of the Research Center for Rural Economy (RCRE) in the Ministry of Agriculture since 1993, Yang Li is also vice division chief of the economic system research division. Yang Li focuses her research and project design on rural women's land rights, conducting fieldwork in nearly ten provinces in China.
Yang Li has participated in a female economists training project at Beijing University; conducted cooperative research on women's land rights at Reed College in Portland, OR; and participated in training courses about knowledge networking and capacity building on gender, macroeconomics, and international economics at the University of Utah in Salt Lake City.
Yang Li's current research investigates policies that cultivate new agricultural management structures to encourage the development of modern agriculture in China. Yang Li received her MA and BA degrees in agricultural economics from the Graduate School of the Chinese Academy of Agricultural Sciences and Beijing Agriculture College.