Liberia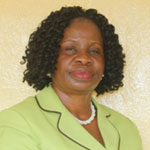 Naomie M. Gray
Assistant Legal Counsel in the Office of the Legal Advisor to the President of Liberia
Naomie M. Gray is the Assistant Legal Counsel in the Office of the Legal Advisor to the President of Liberia where she analyzes draft laws submitted to the Office of the Legal Advisor and renders legal opinions.
Ms. Gray passion in advocating for the rights of women and children, as well as indigent people, led her to join the Association of Female Lawyers of Liberia, where she serves as an official. She is also a managing partner of JSGB & Associates Legal Services, Inc., which is dedicated to ensuring respect for and adherence to women's and children's basic and fundamental rights throughout Liberia.
Naomie is diligent in her law practice and committed to the profession. She holds a Bachelor of Law degree from the Louis Arthur Grimes School of Law at the University of Liberiaand a Bachelor of Arts degree in accounting, also from the University of Liberia.